Ernest Electro Engineering are your Specialists in Providing & Rewiring Electrical Motors
For 45 years this company has supplied the best borehole and sewage pumps to mining, agriculture, hospitals, fish hatcheries, offshore oil rigs, schools, sport and recreation facilities and tourism.  We assist in providing rural communities with safe, drinkable water to prevent typhoid fever, cholera, and diarrhea, by installing a community pump with tap and appropriate facilities.
Current Industries Utilizing our Pumps
The saltwater resistant pumps for desalination plants provide water for agriculture and drinking.
Sewage pumps are the solution to preventing pollution in rivers, dams and streams.
Our multicrusher is installed in pumps or stand alone and is used in the mining industry, chemical and oil industry, Building, ceramic, meat and fish, marine and sugar industries.
The Zuwa Pumps and flat suction system assists with broken pipe leakages, removing water remains from swimming pools and any flooded areas to an almost dry state and contains an oil suction kit with oil resistant hose especially for flooded basements with damaged fuel tanks.
Suction mats with flow channels on the underside, are ideal for drying small amounts of water on large, uneven surfaces.
We also supply a variety of submersible motors and pumps which are ideally suited for sewage and waste disposal in mining by means of a small bore pipe over long distances, rejecting any materials it is unable to cut.
Other Services we can offer you
Our factory specialises in rewiring electrical motors, motor repairs and armature rewinding from fractional up to 300 H.P.  We stock spare parts and quick mounting aluminium gantries for moving and lifting heavy loads, repairs and maintenance of pumps, on and off loading trucks and trailers and general use in workshops. Ernest Electro Engineering offers after sales service so call on us in Strijdom Park, Randburg to discuss your pump requirements.
Sewage pumps offer an excellent alternative to traditional gravity sewage systems, in fact they are necessary for certain applications, particularly where waste needs to move upward from a septic tank. However, when used in any household, they can have a number of unique advantages when compared to traditional systems.
Consistent Flow of Waste
Because they are not reliant on gravity, sewage pumps offer a more consistent and even flow of waste. It is important that this flow is consistent when travelling to the tank as irregular flow could easily lead to blockages or drops in pressure that make the system ineffective.
Efficient & Effective
With the ability to move well over 700 litres of water-waste a minute, sewage pumps provide much more effective and efficient means of waste-removal than more traditional systems. This is a big deal for blockages, since large quantities moving at a slow rate can significantly reduce the efficiency of the septic tank in your home.
Waste can Travel Against Gravity
In traditional systems, waste needs to travel with the assistance of gravity. While there is nothing intrinsically wrong with this, it does mean that a gravity-based system will have to flow downward to effectively allow waste to travel to its destination.
This will obviously have a significant impact on the way that the system is designed.
Sewage pumps on the other hand do not need to take gravity into account, allowing waste to flow from any direction.
Contact Ernest Electro Engineering for Details
Are you looking to acquire and install a sewage pump in Johannesburg? Be sure to get hold of a representative from Ernest Electro Engineering today, or visit our website for further details on our offers.
Submersible pumps, also called ESPs (electric submersible pumps, as they are connected to an electric motor) are used both at home, as a water pressure booster system, and industrially for drainage, sewage pumping and seawater handling, to name but a few uses.
How does it work?
The submersible water pump pushes liquid to the surface – as opposed to a centrifugal water pump which pulls liquids before pushing. As soon as the pressure switch is turned on, an impeller will start to spin, which is what draws water into the pump. Because it is designed to work under the earth's surface (similar to a sump pump), it will not function unless it is submerged in liquid. This pump is also an energy saver – it creates pressure about 30% faster than other pumps and does not work against gravity.
What are the benefits?
One major advantage of using a submersible water pump, is that it never needs to be primed, as the pump is already submerged in liquid. Another benefit is that the pump itself prevents cavitation, a problem that often occurs when there is a high elevation difference between the pump and fluid surface. Additionally, submersible pumps are quieter (especially useful in a residential setting), convenient because it is lightweight and portable, more efficient, safe (as potentially dangerous components are submerged) and it takes much less prep work than other pumps.
Where is it used?
The most common application for a submersible pump, is in construction sites, to pump excess water or fluids from areas like basements. Other uses include pumping slurries, inland or offshore oil wells, boreholes and even in irrigation systems.
How long will the pump last?
Submersible pumps can last up to ten years, but there have been cases of residential submersible pumps that last up to fifteen years, if they only accommodate moderate water usage.
Ernest Electro Engineering is a specialist in rewiring of electrical motors from fractional up to 300 H.P. and is well known for their Oddesse and Submersible motors and electric water pumps.
Ernest Electro Engineering provides all your pumping needs and we are confident to service whatever we sell!
Visit our website: https://ernestee.co.za/ or call +27(11) 792 9550
There are many different pumps to choose from each with its own benefits and capabilities. Pumps are used in many different industries and domestically for a variety of different projects.
Ease of Use
Not only is Zuwa pumps simple to install and use it quite cost effective. Zuwa pumps have been in the industry for over 7 decades making them a very reliable option for any project that requires the use of a pump. The Zuwa brand is constantly working at improving their product so that it is always leading the industry.
Zuwa Pump Uses
Zuwa Pumps and flat suction systems are a great way to get rid of water in most flooding scenarios. Typically used for flooded basements, garages, homes and platform roofs. These places might flood due to heavy rains or broken and leaking pipes. Zuwa Pumps can even be used to empty residue from swimming pools and will empty flooded areas to a near dry state.
Suction Mats
Suction mats are used for clearing fluids after an area has been pumped or for stubborn low-level fluids. The suction mat will remove fluids from all areas in direct contact of the suction mat. The mats are slightly flexible so use on uneven surfaces like concreted basements can be very effective. Mats can even be connected to each other to increase the area covered.
Versatility and Strength
Zuwa pumps are not only limited to water, the pumps can be used to pump out a variety of different liquids including oil, diesel and heating oil to name a few. Zuwa pumps are quite powerful and can pump out small debris like soil or solid articles from areas such as basements with concrete flooring.
Ernest Electro has a variety of different Zuwa Pumps to choose from each with their own accessories to add on.
Visit Ernest Electro to get your Zuwa Pump Now
Click on the link below to see all of our Zuwa Pumps Available
https://ernestee.co.za/zuwa-pumps/
A borehole(also known as a tube well)is as a structure used to expose water that is hidden in the interstices or in the cracks of a rock embedded in the sub-soil that is also called the aquifer.
The water can be raised to ground level either by using a simple receptable (eg. Bucket) or a motor driven pump.
Boreholes that are manually dug are one of the oldest sources of water amongst the poorest communities.
In days of old , the boreholes were simply holes dug with absolutely no form of protection against collapsing.
Their inability to withstand harsh weather conditions led to them disappearing over the years. Of course then they constantly had to dig new boreholes because the ones they had previously dug had either collapsed or dried up quickly.
Boreholes remain one of the most effective and reliable sources of water among the poorest communities. Having to travel long distances to get access to water is a struggle many still have to face.
Even though there are rivers in most poor communities, the water from these rivers are not fit for human consumption. These rivers are where people bath, do laundry and for some these same rivers are lavatories.
Thus making it a breeding ground for multiple illnesses. The borehole system however, requires the, to either use a pump or a pulley system to bring the water up to ground level thus reducing but not completely eradicating the levels of contamination.
Manually dug holes are still subject to contamination by humans because they usually only go up to 20m below ground which is very shallow.
Now given the fact that boreholes are used primarily in the poorest communities, these people do not have access to mechanical means of digging the boreholes.
It is only fair to say that drilling and driven techniques need to be enforced around affected areas. It would be a small price to pay so that all people, no matter their social standing, have access to clean and fresh water.
"Water is Life, Sanitation is Dignity" -Johannesburg Water
Contact Ernest Electro Engineering for Details
Looking for the right electric water pumps for your borehole? Contact a representative from Ernest Electro Engineering today, or visit our website for details.
Pump systems and AC Motors need to be controlled and monitored, the AC Diggi Controller does just that, monitoring and controlling the electric load to ensure that the system is not overloaded. The Ac Diggi Controller comes with open source software for users to set up the AC Diggi Controller to their own custom specifications needed for the project.
Monitoring Pumps
LED lights display warning signals and failures are displayed on the device screen. These faults and failures are stored on the devices on board memory and can be transferred to a computer for further study so future adjustments can be made to prevent these errors.
Bringing You Into the Future
Gone are the days of analogue controllers, AC Diggi Controllers are much more detailed and accurate in its readings and you have the data available in seconds. You even have all of the data available on your mobile device ready to be analyzed.
Pump Protection
Using the AC Diggi Controller protects your pump motor from extreme voltages either too low or too high, phase failures or your motor overheating due to overloading. The controller will also prevent your motor from dry running, if your motor runs dry (without a medium) your motor is at risk of serious damage.
What Exactly is Controlled
The controller monitors a variety of different inputs.
Temperature is monitored to make sure the pump is running at optimal performance.
Power Factor (Cosφ)
Current/Phases
A 3 phase voltage input for monitoring and gauging the power supply.
The Unit Itself
What would the point of a monitoring unit be if it did not alert you if an adverse reading is found? The AC Diggi Controller displays real time current, power and voltage values. Displaying various alerts for system failures.
Get in touch with Ernest Electro Engineering to get your AC Diggi Controller now!
Go to our website to view all of our pumping solutions
https://ernestee.co.za/products/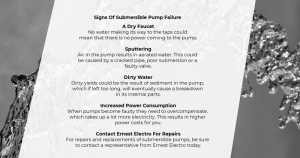 A Dry Faucet
No water making its way to the taps could mean that there is no power coming to the pump.
Sputtering
Air in the pump results in aerated water. This could be caused by a cracked pipe, poor submersion or a faulty valve.
Dirty Water
Dirty yields could be the result of sediment in the pump, which if left too long, will eventually cause a breakdown in its internal parts.
Increased Power consumption
When pumps become faulty they need to overcompensate, which takes up a lot more electricity. This results in higher power costs for you.
Contact Ernest Electro for Repairs
For repairs and replacements of submersible pumps, be sure to contact a representative from Ernest Electro today.
The perfect way to access pure and natural underground water is to use a borehole. boreholes have a narrow shaft that is drilled vertically and horizontally into the ground so you can access water underground, this will probably be the purest water you have ever had.
A borehole is used as a water well and is completed by using vertical pipes and screening to keep the borehole from caving in.
Boreholes can be used for a variety of reasons, like the extraction of water, you can use it as a sprinkler system on your property.
Boreholes can be used to measure the temperature, or it can also act as an underground storage for unwanted substances. Boreholes prevent surface contaminations from entering the borehole and protects any installed pump from bringing in sand.  What is a borehole without borehole pipes?
Benefits of borehole pipes
In order to design a water pump, you should account for protective measures, things that will keep your pump running for longer, corrosion and age. PVC piping can ensure that this job will be done and will provide this kind of protection.
Corrosion resistant – PVC piping being made from certain and specific materials, it is completely corrosive resistant, making it perfect for borehole pumps which will provide the kind of environment where corrosion thrives.

Durable, liable and long-lasting – PVC piping is a long-lasting product, which is why it is used all over the world in buildings and most homes. PVC piping is resistant to wear and tear and other damages.

Simple to install – PVC is a very easy material to maintain and very easy to install, thus little tools will be needed to install your borehole piping.
Contact Ernest Electro Engineering for more details
As you can see all the benefits of borehole pipes is all positive, so why wouldn't you call us today for us to supply you with piping. Get in touch with one of our sales consultants at Ernest Electro Engineering now, or visit our website for more information.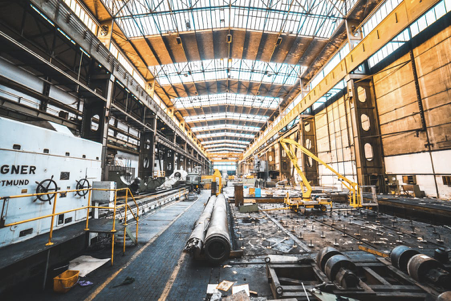 A submersible pump is a mechanical device that serves multiple purposes and is one the most of the most extensively used automatic devices. A submersible pump , also known as a an electric submersible pump or sub pump , is a pump that can be fully submerged in water . The motor is hermetically sealed and close-coupled to the body of the pump.
Advantages
The main advantage of this type of pump is that it prevents pump cavitation , or the formation of an air bubble , a problem associated with a high elevation difference between pump and the fluid surface. Sub Pumps push the fluids to the surface as opposed to jet pumps having to pull fluids down. Thus making sub pumps more efficient than jet pumps because they don't use a lot of energy moving water , water pressure pushes the water into a submersible pump which in turn saves a lot of the pumps energy. The pumps are also very quiet due to the fact that they are submerged under water , which also helps with cooling the motor down.
How it works
A submersible pump pushes water to the surface by converting rotary energy into kinetic energy and further converts to pressure energy. This takes place when water is pulled into the pump as an intake , where the rotations of the impeller push water through the diffuser and from there it goes to the surface.
Uses
Submersible pumps are used for used for many things. Single stage pumps are used for drainage , sewage pumping , general industrial pumping and slurry pumping. Multiple stage pumps are usually lowered down into a borehole and most typically used for residential , commercial , municipal and industrial water extraction.
Also whilst the pumps themselves aren't very versatile , the selection definitely is. Some submersible pumps can easily handle solids , while some are better suited for liquids only.
Contact Ernest Electro
Contact us at Ernest Electro today for any additional information on submersible sewerage water pumps as well as the installation and upkeep of said pumps. If you are struggling under the pressure,  you know who to call !