Gantry
Quick-mounting Aluminium Gantry Crane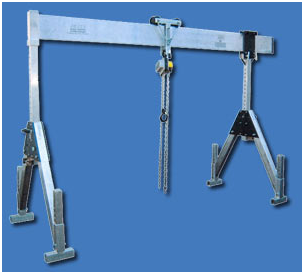 The quick-mounting gantry crane from Ernest Electro Engineering is designed to support multiple applications across several industries.
Lightweight, easy to set up, and built to maximise efficiency, they are perfect for moving, lifting and handling heavy loads, conducting repairs and maintenance for pumps, on and offloading trucks and trailers, or for general use and hoisting in workshops.
These gantry cranes can be setup in minutes by a single person in a couple of simple steps. All you need to do is attach the two aluminium supports to the side stands, move the supports and insert the locking pins, erect the trolley to the support, hand the chain block, and you're done.
Industries Where Gantry Cranes are Used
Mining & Quarrying
The mining and quarrying industries make extensive use of mobile gantry cranes for the removal of rubble and the transportation of payloads. They are also necessary for the maintenance and repair of mining equipment and machinery.
Industry & Building
The industrial and construction fields also make use of heavy equipment and machinery which require gantry cranes to be hoisted. The same can be said for materials that need to be handled, lifted or moved around site.
Forestry
In forestry there is often heavy equipment that needs to be moved, repaired or maintained. Loading lumber for transportation is also a concern that is effectively met by the use of gantry cranes.
Other Industries
There are a number of other industries that also make extensive use of gantry cranes and related equipment, and Ernest Electro Engineering offers products to all of these industries. They include, but are not limited to:
Electricity distribution
The motoring industry
Sanitation and cleaning
General maintenance and production
General Applications
Moving & lifting heavy loads
Repairs & maintenance of pumps
On & offloading trucks & trailers
General use in workshops