Eupsim- Submersible Water Pumps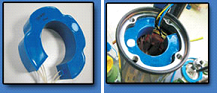 The Eupsim is the future in Submersible Pumping Technology. It provides users with data communication without additional signal cable. Moreover, there is no contact to liquid due to a separate system.
The integrated pressure and level measurement allows for a more optimised approach which only improves with both motor temperature measurement and the alarm and event messages.
The Eupsim protects the motor from over and under voltage and over and under load phase failure. For convenience the system offers communication to process control.
Functions
The Eupsim ensures bi-directional communication between the motor and control unit. This com-munication is from the motor to switching cabinet.
After this the communication will read and regulate temperature of motor, pressure, level, the message of alarms and limiting values, and more values on inquiry.
This includes from switching cabinet to the motor which is the switch signals, adjustment and calibration data.
The Eupsim data communication via motor power cable with Power Line Communication (PLC) allows for no separate cable necessary. Implementation of new techniques for the control and monitoring of submersible motor basing on the recording and evaluation of additional values at bad accessible locations.
You have data communication between the control unit and the centre at an optional widely distant location via Internet, GPRS mobile communications.
System Construction
The system consists of three main components. This is the control centre for the remote control and monitoring of pump installation. You will find a connection to the control line, Internet or mobile communications.
Control for monitoring of the pump, includes a communication module for data exchange. This is between the integrated microcontroller module (MCM) of the submersible, pumps motor and Control centre.
The above consists of diverse control units.
Submersible motor pump with integrated MCM included a transmitter. The position of Eupsim inte-grated micro-controller fitted on an Oddesse submersible motor.
The position of Eupsim  integrated micro-controller fitted on an Oddesse submersible motor

Diagram of a complete system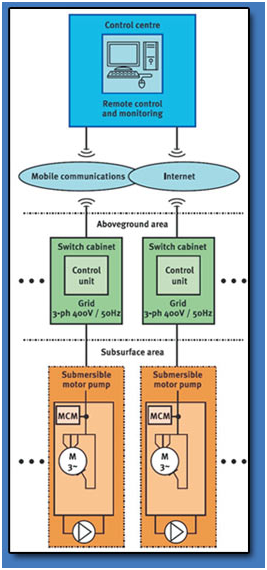 Contact Details
Tel:
+27(11) 792-9550
Fax:
+27(11) 792-9553
E-mail:
eeeaman@mweb.co.za
Physical:
370 Kruger Road
Strijdom Park
Randburg
2194
GPS:
S26°04.972'
E027°58.245'
Postal:
P.O. Box 26173
Pinegowrie
2123